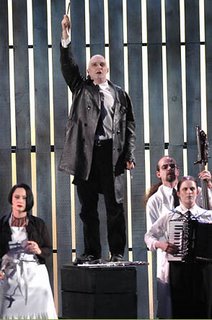 I really wasn't planning on posting about the
Tonys
tonight, but then I figured I had to add my two cents in regard to the musical numbers, so here I go (I will try to keep it short...and keep in mind that I'm ridiculously tired so if my sentences don't make sense...oh well):
*
The Drowsy Chaperone:
While I adore
Sutton Foster
, I just wasn't impressed with "Show Off" during tonight's telecast (though I am listening to it for some reason as I type this). It was sadly one of the weakest musical numbers and lacked the energy and spunk that it had when I saw the show in L.A. This realization shocked me a little because Foster is one of the most energetic, charismatic performers and even if the people around her lack pizazz, her energy tends to shine through anyway.
*
Sweeney Todd:
I don't have a lot to say about this performance as I haven't yet been able to fully listen (or watch the DVD for that matter) any version of this dark show. The performance tonight was great --
Michael Cerveris
&
Patti LuPone
were strong.
*
Jersey Boys
: When I'm wrong, I will admit it and I was wrong about
Jersey Boys
. This cast has so much energy and talent that it was exuding off of my uncolor balanced TV screen. Sadly, I once disregarded this show, miscategorizing it as another fluff jukebox musical...I
might
be wrong. While I've yet to actually see the show in person, the energy in the performance tonight really blew me away! Everyone I know who has seen the show has raved about it (and recommended that I see it) but I didn't believe them (who feels stupid now?) If tonight is any indication of what kind of talent we have in the cast and particularly
John Lloyd Young
(as Frankie Valli), then I cannot wait to see what else this guy can do -- he truly deserves his
Tony Award!
Heck, I might even buy the cast recording...the show seemed THAT good!
*
The Wedding Singer:
Last week, the cast of
The Wedding Singer
performed on the
Today
show. Though the cast had to be up early and had perform outside that day, I wasn't so impressed by what they had to offer. Today though, inside Radio City in front of thousands of theater professionals & fans alike, the cast of
The Wedding Singer
did a really outstanding job (performing the same number as on the
Today
show). While I'm not a big fan of turning this movie into a musical (though an obvious choice) I was highly impressed with the energy of this cast. As a show overall, if given the chance to take it or leave it, I'll likely chose the latter. Do I see it as quality material? Not so much. But it does gets points for the choreography which was very fun and everyone on stage looked like they were having a blast!
* The Threepenny Opera:
Alan Cumming & Cyndi Lauper on stage...in leather? I don't know when the show opened, or why they revived it with some gay undertones (or was it that way from the beginning)? Both Cumming & Lauper gave very strong performances with amazing voices. I'm not so familiar with Kurt Weil's show, but if a cast recording comes out with this cast, I'll definitely be interested in listening to it.

Tribute to Hal Prince:
I love Hal Prince. I think he's a genius and does terrific work. Brian Stokes Mitchell presented a very short tribute to Prince and quickly highlighted his prolific repetroire. So, it was quite a shame when the longest running musical in Broadway history (Phantom) decided to perform a drastically cut-down version of "Music of the Night" and then messed up! Howard McGillin (the Phantom) must have been on auto-pilot when he didn't note the key & style change and proceeded to sing the wrong line then caught up and finished the song (badly). Anyone who has heard that song must have heard his obvious mistake. What's worse is that this performance was to celebrate a lifetime achievement award to a director then his actor screws up the performance...ahhh the irony.

*
The Pajama Game:
I love this show. I love it everytime I listen to my CD with John Raitt & Janis Paige and loved what Kathleen Marshall did with this version starring
Kelli
O'Hara
&
Harry Connick, Jr.
(who did "There Once Was A Man" as well as the cast which performed "Hernando's Hideaway").
Connick
added a lot of jazzy rhythm to the show which was also very impressive and also added an interesting (but good) new twist.
*
The Color Purple
:
Oprah introduced the show's performance of "Hell No" and the repirse of "The Color Purple" tonight. She was well spoken (as usual) and proud of what the show has given to those who have made the trek to see it. I wasn't impressed with the "Hell No" number, but absolutely saw why
LaChanze
deserved her best actress in a musical award during the performance of the show's title track.
LaChanze
has got quite a voice and seems to do a fantastic job in this role. I'm sure Oprah was proud of the 1 (or was it 2) awards that her show won tonight (of the 11 it was nominated for).
Ok, that's it for now...oh, and I missed Hugh Jackman...he was nice to watch as host of the show for 2 years.